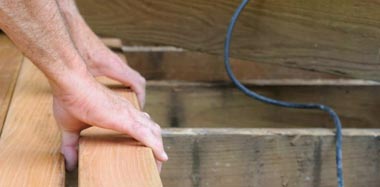 Repairs and maintenance are essential to keeping your deck or dock safe and beautiful.
A number of problems can create hazards on outdoor structures. We can evaluate any issues with your dock or deck and plan for repairs that will restore its structure and condition.
We can build a dock for your boat and jet ski, or can repair existing decks and docks.
---
Badin Lake Lakefront Home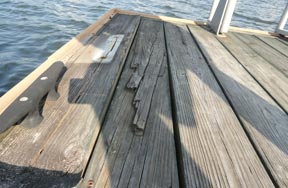 At this lakefront home on Badin Lake, the owners were ready to replace the boards on the deck and dock, as they were weathered and splitting.
The original lakeside, pressure-treated deck boards were replaced with Timbertech™ Composite decking, the deck's band board was replaced with Miratec™ and the steps to the backyard use Timbertech™ treads and Miratec™ risers.
The badly weathered boards on the boat dock were replaced with new pressure treated wood. The sinking jet ski port (on the right side) was replaced with a new EZ Port Max.
The results were beautiful and functional. Click on any photo to see the full-size photograph.
---
Deck Renovation, Pinehurst, NC
For this project, the owners were ready to replace their older, tired decking, located at Pinehurst No 6. We used pressure-treated wood, and then finished the deck with Super Deck Solid Stain. These photos show the new deck both before and after the stain was added.
---
Deck Reframed and Timberdeck™ Composite Deck
For this project, At first, we were just going to replace the deck boards. Upon removal of the old boards, we could see the framing was very poorly constructed. So, we reframed the deck to current codes, and use Timberdeck™ composite for the deck.
---
More Deck and Porch Remodel Projects
Below are photographs of some other completed projects. Click on any photo to see the full-size photograph.
---
We can repair or replace your home deck or boat dock!
Wood Decks & Docks

Cypress
Western Red Cedar
Cox® Durapine
Ipe - Ironwood
Composite Decks & Docks
Timbertech Certified Contractor
Trex

®

Deck & Dock Repair
Clean Wood Decks & Composite Decks
Pressure Washing