Touchless covers are the most advanced covering system on water or land.
All Touchless Covers are built using the finest materials, from the Top Gun Marine Fabric to the aluminum mounting brackets, galvanized frame and stainless steel cables. A powerful tubular motor lifts and lowers the curtains around your prized possession, whether a boat, golf cart, RF, motorcycle, or powered water craft (PWC).
Looking for a pontoon boat cover, bass boat cover, ski boat or bimini boat cover? Or perhaps a cover for your RV, motorycyle, golf cart or PWC? In less than ten seconds your boat, golf cart, RF, motorcycle, or PWC is covered. No more wrestling with up to sixty pounds of canvas.
You'll love this ... no more snaps to cover your boat, golf cart, RV, motorcycle or PWC ... just touch the button on the remote control … that's it, you're done. Touchless Covers give protection from the rain and sun. With over 10 years of research, testing and development, its time has come.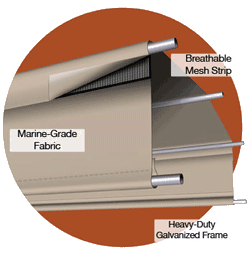 Looking for a bass boat cover, pontoon boat cover, ski boat cover, bimini boat cover ... basically a custom boat cover for any type of boat? Protecting your investment is important, and the The Touchless Boat Cover™ will protect your boat. Our boat covers are perfect for Badin Lake Homes and Lake Tillery Homes ... any lake home ... in North Carolina. The Touchless Boat Cover™ can be fit for a boat or RV up to 50' long and mounts to almost any boat lift system. Its galvanized heavy-duty steel frames provide a durable and long-lasting structure that has been tested in winds of up to 140 mph.
Not only is The Touchless Cover™ convenient and attractive, but it also provides superior protection for your boat, golf cart, motorcycle, or personal watercraft by helping prevent mildew, eliminating sun damage, and securing it from exposure to animals and debris. It's the most effective way to safeguard your boating investment to ensure it maintains its value for years to come. It is your only choice for both maximum protection and convenience.
The fabrics come in a variety of colors, as well as two-toned options, to match any home, boat or boathouse. And "Marine-Grade" means that they're resistant to the elements and to fading.
The Touchless Cover™ requires no special tools for assembly. Operation and accessibility is easy, utilizing a smooth, one-touch remote controlled coverage system. Limited Five-Year Warranty is standard.
LCI Touchless Covers provides service to Central and Eastern North Carolina including but not limited to Greensboro, Raleigh, Badin Lake, High Rock Lake, Lake Tillery, Sanford, and Pinehurst/Southern Pines.